C/C++ APIs and DLL
풍부한 API 및 프로그래밍 환경 세트 중에는 R5550 분석기에서 SCPI 명령과 VITA VRT 데이터 흐름을 추상화하는 C API 및 DLL이 있습니다. C API는 소스 코드에서 공개적으로 사용할 수 있으므로 BSD 오픈 라이선스를 통해 솔루션을 상용화 할 수 있습니다.
NI LabVIEW®-랩뷰
API's for the NI LabVIEW® system design software.
Easily and quickly integrate the ThinkRF R5550 or R5750 analyzer into your existing or new NI LabVIEW® based acquisition, measurement, automated test and validation systems.


SCPI and VITA VRT
Compliance with standard protocols provides you both multi-vendor independence and device interoperability.
ThinkRF supports the Standard Commands for Programmable Instruments (SCPI) for control and the VITA-49 Radio Transport (VRT) protocol for data flow.
ThinkRF provides high-level functions and examples for programming and interfacing at the SCPI and VITA-49 VRT level in each of ThinkRF's APIs.
MATLAB®-매트랩
API's for MATLAB® interactive programming environment.
ThinkRF provides MATLAB® APIs for connecting to the ThinkRF R5550 or R5750 Real-Time Spectrum Analyzer and MATLAB® program code examples to get you started towards developing your own.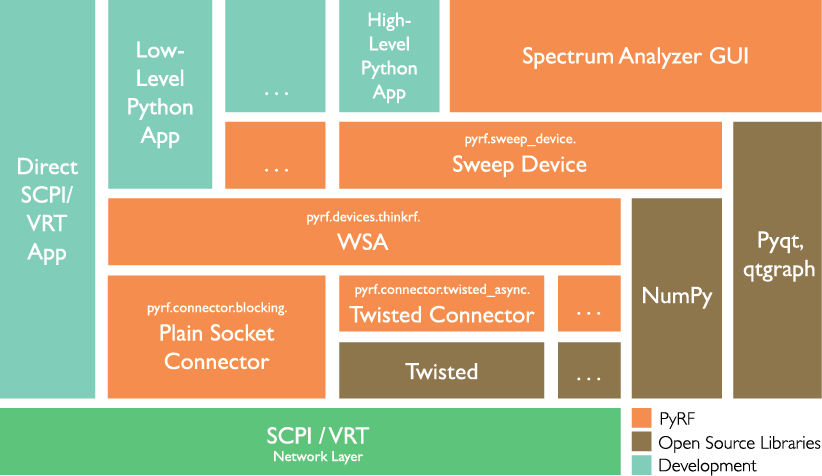 PyRF Development Framework
PyRF를 사용하면 차세대 측정 등급 소프트웨어 정의 무선 기술을 활용하는 강력한 애플리케이션을 신속하게 개발할 수 있습니다. Python 프로그래밍 언어를 기반으로하며 기능이 풍부한 라이브러리, 예제 애플리케이션 및 소스 코드를 포함합니다.